About Us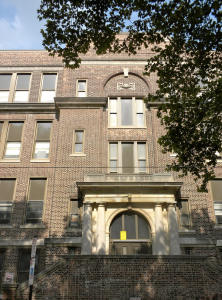 History of Our School
The Lewis C. Cassidy Academics Plus School is located on Lansdowne Avenue east of 66th Street. The building was erected in 1923. The school was named after Lewis Cochran Cassidy who was born in New York City on October 17, 1829. When he was three years old, he moved to Philadelphia with his family. Lewis Cassidy graduated from Central High School in 1847 and studied law, receiving his degree from Princeton University.
Mr. Cassidy was active in Philadelphia politics, being elected to numerous positions. He served the state legislature as Secretary of the Judiciary Committee. He was also Solicitor of the District of Moyamensing, District Attorney and Attorney General of Pennsylvania in 1883.
When not occupied with politics or his law practice, Mr. Cassidy devoted himself to public service. He was a member of the Philadelphia Board of Education for many years. Mr. Cassidy died on November 18, 1889. He was 61 years old.
---
Mission Statement 
The staff of the Lewis C. Cassidy Academics Plus School is committed to providing a comprehensive and integrated educational experience for ALL STUDENTS.  The staff and community will provide a creative learning environment for every child in order to provide motivation for each student to achieve his/her own academic and social goals.  The Cassidy teachers, administrator, and staff appreciate the uniqueness of each individual student and treat students with respect, care, and concern.
All of our students will master essential skills in oder to become successful, lifelong learners.  We recognize that high-quality, relevant and appropriate learning opportunities that meet and challenge individual abilities and interests of the students is the key lever to reach our goals.
---
Vision Statement
Cassidy School's vision is to produce lifelong learners who are self-motivated, cooperative, respectful individuals that strive to reach their full potential as viable, contributing citizens.